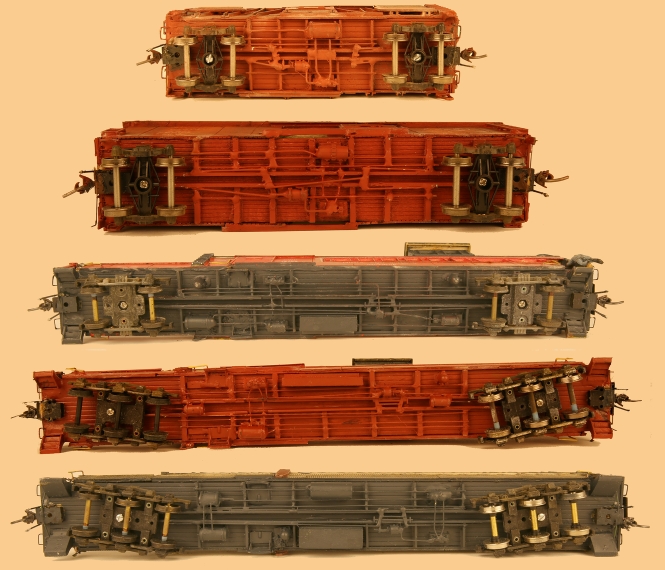 ALL MODELS ARE HO SCALE ONLY
All the cars in this WCHB Series are scratch built by me. As you can see at left and right, all have complete under-body and car end detailing with graphics of rarely known roads and short lines supplied by K4 Decals and all are weathered realistically and designed to appear prototypically correct. Many detail parts are from Tichy and Cal Scale. Freight car trucks are from Bowser and head-end passenger cars have Central Valley trucks. Couplers are Kadee. Cut levers and air hoses are on all models. Each model will be signed by me and have its serial number on the underside of each car.
I use wood! Now, in all fairness, there is no way on this planet I can build a car that has the amount of detailing as does an off the shelf plastic offering, but a well-constructed wood car has a certain look of quality and panache that can never be duplicated in plastic. If you are lucky enough to own the new video of my pike by Forrest Nace, you will immediately see what a difference a wood car makes.
Take a good look at catalog pages to follow. Photos were shot by Forrest Nace who, as I mentioned, recently produced the two hour program on my pike.

Please do not ask if I can build a car for you of an existing prototype. The answer is yes, of course I can, but no… I will not. I'm only doing this for the enjoyment I get from constructing something unique.
Now two quotes by Howard Zane, "This hobby to me is about limitless imagination" and "Why own something in plastic, made in China, and produced in runs of thousands when for a few dollars more, you can own a one of a kind model constructed from quality basswood?"

I was inspired to build these models because, two years ago, I began purging my layout of anything plastic, and I built a completely new fleet of all wood car kits. This changed the layout dramatically, but still there was something missing, so I shelved most of the KIT BUILT wood cars and began building all SCRATCH-BUILT cars….of course, from wood. Very few can tell the difference between the two as the same construction and finishing techniques were used on both….just the scratch built car is a "one of a kind" and from my imagination.
The material that follows is designed to mimic a quality paper catalog. Thus you may download and save and print the various pages that interest you. Hope you enjoy, and thanks for looking.
-Howard